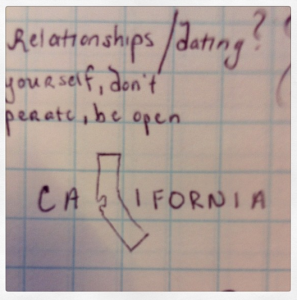 I can't remember how I greeted my library date. Was it a hug? A handshake? Smiles were certainly in attendance though, and Library Brian (his nickname already coined affectionately by my friends) was even holding a canvas bag to hold his books in. Our literary escapades were going to be a serious business.
The Oakland Public Library is rather impressive. Walk through the tall, glass paned double doors and you'll find faux (or is it real?!) marble and columns that stretch higher than you can crane your neck. Opulence, rather than the rag-tag scrappy you're imagining, oozes from every corner of the architecture. Of course, the library is still a public library, with plenty of unique patrons lingering in front of the magazines and computers. It's a blend of urban modernity and times gone by in one, book-fresh location.
Politely, Library Brian asked what was on my list. At the top was the only John Green book I've never read, Will Grayson, Will Grayson, along with Daniel Handler's Why We Broke Up. Which meant, first up was admitting to Library Brian that while a joke he'd made over text about wanting to borrow Breaking Dawn had been funny, it wasn't too far off base regarding the kind of literature I enjoyed…namely, Young Adult lit. Up to the teen room we went.
As you may have guessed, the teen room is full of teens. It's noisy, busy, and everyone there, including library employees, were under 25. Library Brian and I were clearly the oldest people in the room, and on top of that we were striking out on the books I was looking for. Not only did we look out of place (and maybe a little creepy), but we didn't have an obvious reason for being in the room. No matter. Library Brian and I were chattering away, me a few steps ahead of him making awkward commentary on anything and everything (as I'm apt to do when nervous about meeting someone new and nervous that my kidney stent might act up at any second) when I came across a book called The Date Book.
This book should probably have been subtitled "30-Somethings First Date Instant Gold Book" because any sense of "I don't get this person" was broken down as Library Brian and I looked through The Date Book together. I gave him a test to see if there were red flags about him, and we talked about what would go in our dating contract, plus discussed my outfit was date-appropriate based on the book.
From there, we waltzed back downstairs, getting distracted by the maps section (Library Brian majored in geography, I learned) and making our way through several nonfiction sections looking for his selections before we admitted we each had an embarrassing book on our list. He went first: his book was about neurology (which um, is not embarrassing). Mine? Oh, mine was just Sex at Dawn. You know, an anthropological look at the history of human sexuality. Add to that I also wanted Lori Gottlieb's Marry Him: The Case for Settling for Mr. Good Enough (research for 50/50!! I swear it!) and I made myself more flustered than Piglet during a blustery day. Library B was a good sport, and even seemed a bit bummed the former was out of stock. After a stop at the sheet music room (OPL has one of the biggest sheet music collections in the state!) and singing the songs we were finding, we eventually checked out.
"Want to grab a drink and a small bite?" Library Brian asked. After the amount of laughter we'd just shared, I agreed with the specification we go anywhere but the closest pub (which is one of my least favorite places in Oakland), and I even agreed to walk 15 minutes across Chinatown to get to the meat-and-veggie friendly sausage spot he thought to take me to – though I texted my friend to let her know I was still out and where I was going. Safety first.
On our walk we passed a lurid shop with a large yellow sign proclaiming yes, Adult Book Store. Library Brian said, "Maybe the sex book you wanted is in there?" I laughed and kept walking, thinking it was a totally bizarre thing to suggestion, and he seemed confused. "Isn't it just…a shop with books about sex?" Realizing he didn't quite know what he'd been suggesting, I turned around and pulled him into the shop.
"Here we go," the man behind the counter said. In all honesty, it was the seediest adult shop I'd ever been in, complete with almost bare walls and stalls in the back. They did have a stack of 70's erotic novellas, which I encouraged Library B to pick up and play the game "who can find sex in this book first?" (a great game also to play in the Romance section of non-adult book stores). Library Brian got uncomfortable with the men leering at me and tugged me out of the shop, both of us laughing uproariously, and realizing we felt gross just having touched some old books. (It might come as no surprise that upon sharing this story with my friends, Library Brian became Library Adult Book Shop Brian, or LABS for short.)
I insisted that before anything else, we needed to wash our hands at the pub. Labs agreed, only the women's bathroom was in use and the men's was not. Pathetically, I asked if I could go in, and he held the door open before following me into the one room restroom. It was a little strange, but I was more concerned in indulging myself in an overly sudsy, twice over hand washing than much else. We continued to laugh at the absurdity of the situation until I turned to leave, realizing the bathroom door was closed. And, not only was it closed, but it was locked.
"You locked us in here?!" I said.
"Oh my gosh, is that weird?" he asks. "I didn't want anyone to walk in and find us in here together!"
"Because this is a better solution? Us walking out of a locked bathroom together?" I asked.
"It's fine," he says. "We were in here for a minute. I bet no one is even out there."
I balked, not wanting to open to the door. Labs nudged me and I finally pulled the door toward us, the lock unclicking. A goateed man stood right in front of the door, waiting. It took a hot second before I looked him in the fact, blurted out, "We were just washing our hands!" waving my fingers in the air, and bolted.
I heard Labs' laughter behind me as he eeked out, "That didn't make us sound guilty!"
And here all I'd really been hoping for out of this date was a book or two. Instead, I got hilarity, great conversation, and eventually, a kiss.
Post Tagged with
boyfriend
,
california
,
commitment
,
daniel handler
,
dating
,
first date
,
girlfriend
,
john green
,
kiss
,
library
,
oakland
,
okcupid
,
online dating
,
relationships