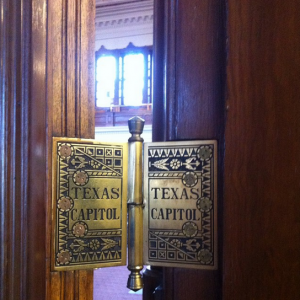 I'm pretty sure this whole story began with my mom rolling her eyes behind my back. I mean, I wouldn't know for sure – my back was turned. But it was indeed my mom who pointed out that Max, a fellow guest at an elegantly sweet New England wedding, had taken a shining to me. An it was indeed me who said, "Wait, really?" just as he came up from behind me, asking me to dance.
Max and I hung out without the watchful eyes of my mom at the after-party, which was chock full of the usual beer, bravado, and belly-laughter you'd expect from a group of 30 thirty-somethings. We stayed up til just before dawn, goofing off (him) and snoring (me) and kissing (both of us). Unabashedly, Max joined my mom and I brunch, and even more boldly knocked on our hotel room door moments before heading to the airport to say goodbye – and invite me to visit him in Austin.
An hour later, I texted him: Are you serious about Austin? 
Max: Absolutely. My bed and body are yours. 
Well, with an invitation like that…Fear of flying be damned.
A day later, I had a plane ticket. Three days later, Max had sent a long email detailing what we might do, fun things of all genres (stand-up paddleboarding, hiking, music, bars, a motorcycle ride), and included screen shots of maps. For the next few weeks, we texted casually about our days, sending photos of what we were up to, making plans to volunteer one day I was there, picking a show to go to, flirting.
Me: Should I bring anything specific from California? 
Max: Hmmm. Nothing comes to mind. Just don't forget underwear. 
Me: Wait, no one said anything about underwear. I need to repack. 
Max: 😉
On the Friday after a stressful workweek – the kind that had left me sitting ramrod straight at my desk in a near panic – I drank a margarita at lunch and my mom picked me up. We talked dating and boys during the smooth ride to the airport. "You're going to find someone wonderful," she told me in a motherly reassuring way as I hugged her goodbye. The silent finish to that sentence was, "…and maybe it's Max." My mom isn't known for sentiments like this out loud, and that thought stuck with me as I clutched Wilbur at an airport bar while reading Miss Peregrine's Home for Peculiar Children. 
I was scared of getting on that airplane; but I was more scared of missing out on the rest of my life. I popped an anxiety pill, curled up in a ball, listened to This American Life, and thought about my future.
Upon landing in Austin, I realized I was missing one key piece of the seeing-Max-again puzzle: fresh breath. I stopped by a group of Australian men who had gotten off the same plane as me and asked if any of them happened to have gum.
"Planning on kissing someone?" the man in a white-polo shirt asked me, sliding me a foil wrapped stick.
"Planning on more than that," I said. The men dissolved into laughter, and I walked into the warm Austin air feeling sassy beyond all reason.
To be continued…