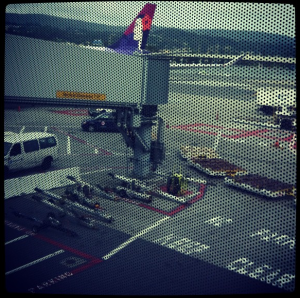 When I was 10-almost-11, I flew to Hawaii by myself to visit my grandparents. As one of eight grandchildren (one of seven granddaughters, my brother blessed with being the only boy) it was a treat with sprinkles, a whipped cream and multiple cherries to get to spend a week alone with Betty and Bill. I got on the airplane without much fight, mostly being bummed that unlike whenever a member of The Baby-Sitter's Club traveled, my best friend was not allowed to come with us to the airport and I'd had to say good-bye to her the day before. Somewhere on that journey, I went from unaffected aviator to ferociously freaked out flyer.
I say all this because in prepping for Hawaii, I realized I was taking the exact same flight that spurred my 15 year flying hiatus. My refusal to get in an airplane caused me to hide under my desk with my French horn teacher yelling at me on the phone my freshman year of college. It caused my parents to drive me to Arizona for the Fiesta Bowl my second year of college so I could play with the band. It caused me to earn a C in band and take me off the Dean's List my fourth year of college when I refused to get on the plane to Texas. And it caused me to explore therapy, hypnotherapy, anxiety medication, and the act of getting on a plane and running off of it before the doors closed – and get to know I-5 pretty well from Seattle to San Diego which was about my driving range. I say all this because this flight to Hawaii wasn't just about the last first date but rather about, in many respects, the way people grow and change in their lives and why the freedom to be different than we used to be is vital to our humanity and character.
Fine, maybe it wasn't quite so grandiose. But is sure felt that big.
And I have to say, in some ways, going to Hawaii now was reliving the trip in the way I'd wanted to back then. Almost-11 year old me wished I'd have a romantic adventure while away on the notoriously love-laden islands. The Baby-Sitter's Club gals were always running about meeting boys and getting asked out on dates when they were on a trip. Something about being away from home always led at least one of them into a dinner date, even when they'd been hired to babysit for the summer. Nothing of the sort went down twenty years ago, despite wearing my best clothes (blue biker shorts with baggy t-shirts tucked into them and billowing out, a plaid bodysuit under short denim overalls, a huge t-shirt with a gangster Bugs Bunny on it) – but it was all actually happening now.*
About a week before leaving I started looking for dates in Hawaii, and found myself with two. One was a guy who promised to be the most exciting guy on the islands. The other was a girl who liked to write poetry and was employed in the social work field and seemed like just an incredibly smart, interesting, and highly motivated person.
It's weird when your future self gets exactly what your past self desired. But it's also incredibly satisfying. Or it would be, once I made it to Oahu unscathed.
–
*Best clothes now include a mustard yellow top with lattice sprawling down one side, and a lacy pink dress glammed up with belt (at least, on this trip. Actual best clothes may vary.)
Post Tagged with
50 dates
,
50/50
,
dating
,
first date
,
flying
,
grandparents
,
hawaii
,
hawaiian airlines
,
memory
,
oahu
,
relationships
,
the baby-sitter's club