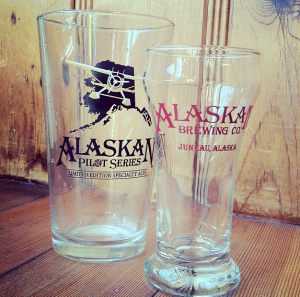 Oh, men of Juneau.
My first first date in Alaska was scheduled to take place the afternoon our plane touched down. Despite my date, Alex, not responding to my text messages during the layover in Seattle, I assumed we were still on – I'd had a phone conversation with the guy the day before for goodness sake. And the last guy had backed out. I really wanted this to work.
Still, when it came time to leave the house, the boy still hadn't responded. Shrugging, Megs and I made our way to the Alaskan Brewing Company, where we were eager to explore their beer menu and meet the team nice enough to let us film in their tasting room. After shaking hands, setting up, small talking that led to deeper conversations, a Rye IPA, and APA, and a stout, my date texted:
Oh, been up on the mountain skiing. Great snow. I can't be down for another forty five minutes. 
I can guarantee I made a face or rolled my eyes because Megan asked what was up. I explained and said I wasn't sure it was even worth the guy coming down. He called then, and I answered. "Should I come?" he said.
The bartender, listening to every last word and already having invited us to his house for dinner, said he'd take a poll for me. Putting my potential date on mute, the bartender hollered to the tasting room audience the story – me from California, my date who skipped out to ski. The crowd murmured that indeed the snow had been really good and they understood him going up the mountain, but couldn't make a consensus about the guy. I decided to invite him out, just in case.
While we waited, another group of men wandered into the brewery. One saw the cameras, then walked right up to me and said, "Wait, I recognize you. You emailed me about going on a date, but I ignored the email because it seemed pretty ridiculous. But…you're cute in person." Off we went  on an impromptu conversation, the kind that happens in bars all over the country. We talked teaching (he was a teacher), education, music, and the fact that we recently had both won dance contests. And while we were chatting, another guy walked in, dressed up a bit and looking fresh from the shower.
"James?" the guy at the door said.
"Alex?" my stand in date said.
"What are you doing here?" Alex, the guy at the door, asked.
"Well, this girl's date stood her up, so I'm standing in as her date." James replied.
"Ummm…I'm her date, actually."
After a long pause we all laughed nervously, and even though I'd have probably preferred to keep conversing with James, I had promised Alex a date. James and I shook hands, and Alex stepped in. The lull that followed was more awkward than I anticipated, and the only question that came to mind was asking how the guys knew each other.
Neighbors was the answer.
James texted me almost instantly asking me out to dinner, while Alex grabbed a taste of beer and started prattling on while I wondered if this is how all dating in Juneau went: sort of out with one person accidentally, then sort of out with another. Trading partners like a square dance, seeing who you end up with at the end of the night. Luck of the draw rather than choice.
But that's sort of all online dating, really.
Post Tagged with
50 first dates
,
alaska
,
alaskan brewing company
,
beer
,
boyfriend
,
dating
,
first date
,
girlfriend
,
juneau
,
online dating
,
relationships