Ed note: since writing this piece, have learned this is not a neg and is simply poorly executed potential flirtation. However, this did lead to the question of "what is my responsibility as a dater who wants to make the dating world a better place to inform people their tactics aren't working?"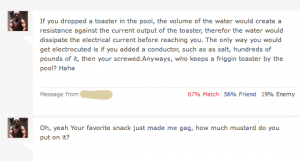 Oh hey, look! It's my first identifiable "neg!" I'm probably supposed to be horribly offended by (or horribly attracted to) the dude, but honestly…I'm just proud I intercepted this piece of work through the influx of messages on OkCupid, and correctly labeled it as someone who is probably curious about dating me but thinks the way to my heart (or under my belt) is to tear me down. Word to the single and potentially unwise: unless the guy has some redeeming quality or something to offer you, there's no need to respond to such bizarre tactics.
The definition of a neg is as such:
A light insult wrapped in the package of a complement. Used by pick-up artists to gain and maintain the attention of women who possess uncommon beauty (9+). These women are immune to standard complements.
To be fair, I'm only 90% sure we're looking at an actual "neg" here. In a way, the guy didn't really throw down a backhanded complement. (I've tweeted at PUA guru Style for assistance in identifying this.) The guy really did just insult me. However, he did end each interaction with a question, and bothered to respond coherently in the first place (which is more than a lot of guys do).
For some context, here is the portion of my OkCupid profile that the guy was responding to: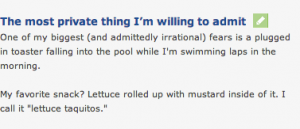 Post Tagged with
boyfriend
,
example
,
first date
,
girlfriend
,
neg
,
neil strauss
,
okc
,
okcupid
,
online dating
,
pua
,
relationship
,
style