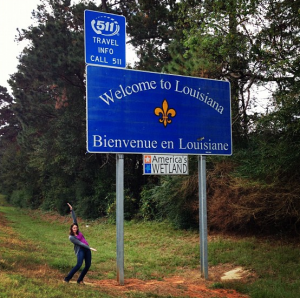 A sort-of distant family relative I'd never met hosted Megan and me in rural Mississippi. I knew we weren't not-in-the-way, so the fact that she had insisted, welcomed us with open arms, oatmeal at the ready for breakfast and a glass of wine at the ready when we walked inside, was downright mind-blowing. The family got up and quietly navigated around us as they got shoes on kids and schlepped off into their daily routine while Megs and I slept in a little (hello, 8am wake-up call!), skipping our workouts and getting ready to take on Megan's 50th state: Louisiana.
We crossed the state line in 50/50 style, meaning I got excited about five miles before the line, started chattering and singing "50 states! 50 states!" while Megan got cameras ready, and then we pulled over on the freeway to take photos and video while semis thundered past. In an unusual twist, I managed to get Megs in front of the camera so we could document her personal 50th state line crossing, and then we hopped back in the car and were on our way to New Orleans.
Driving toward NOLA, we discovered that should we veer slightly out of our way we could drive across one of the longest bridges in the world: the Lake Pontchartrain Causeway. Agreeing that the 23 mile bridge was totally worth shelling out of pocket for, we paid and were on our way. Imagine driving a bridge that is just about the length of a marathon (I seriously would love to run that bridge. Point to point, once you're done you're done? That would be AWESOME). When you're in the middle of the bridge, you can't see the other side, and it almost feels like a bridge to nowhere. At any second you might just fall off the end and into the water. A kamikaze mission of sorts (I'm not relating that to dating in fifty states, I'm not relating that to dating in fifty states…).
Once in the city proper, Megan and I had the day to ourselves. So we began it as any right-minded Americans would: at Cafe Du Monde for the famous beignets (and the less famous but ungodly good coffee). As Megs had never had a proper beignet before, it was vital I indoctrinate her to the wonderful world of two inches of powdered sugar and puffy balls of heaven. Trying not to look like crack addicts, we ate, watched a buff shirtless street performer do handstand pushups on a railing and then hurried to meet our homestay to drop off equipment.
After exclaiming over our homestay's collection of penis whistles and other oddities leftover from a street party, plus me managing to break open a squishy ball that leaked white goo everywhere (the jokes about that didn't stop), he went back to work and we walked down a canal and toward a cemetery, another one of those places one has to see in New Orleans. Due to the flood potential, NOLA buries their dead above ground, which means instead of a row of headstones, there are corridors of little monuments that look like well, houses. Creepy houses, but houses nonetheless. To cure myself of mortality blues, I imagined ghosts partying on the porches every night, visiting each other and being adorably ghostly together. However, I was relieved when Megan had experienced enough, and we were on our way to the streetcar.
The day went from sunshine to rainshine in about the amount of time it took to get downtown. Gray skies didn't loom so much as glower, and we popped into a drug store for umbrellas. Best. Decision. Ever. It started to dump rain about two seconds after we purchased the 'brellas, and walked to a side street off the French Quarter for a late lunch. Mmmm. New Orleans food.
The FQ was packed with football fans drinking, yelling, and splashing mud about. Yeah, see…the streets there, when wet, look a lot like Tijuana. They're sloppy and mushy, people are everywhere, poking their heads out of bars and drinking on the streets, yelling, stumbling, laughing – and it was not even happy hour yet. The melee was impressive: both touristy and yet somehow a little bit not. Rain ceased and we walked to a few monuments, the water's edge, and eventually perched at a bar where we people-watched and soaked in the strangeness of it all before grabbing alcoholic slushies and watching a crazy man pull out an axe in the middle of the street and argue with police about why he shouldn't be arrested.
Now that was a photo op I'm sorry I missed.