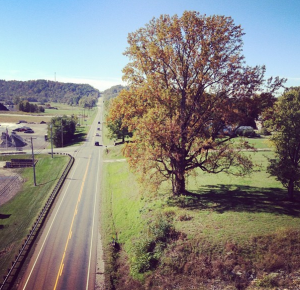 Let me just say this: Ohio's date tried to woo me by performing his very own rap with the line Always, like a maxi pad while playing accompaniment on his accordion. And that's seriously all I'm going to say because Lord, goodness and Joss Whedon know you need to watch the movie and witness the footage of all the other epic fails of this date.
What I am going to talk about in regards to Ohio is our completely rad homestay couple, Kristin and Eric. As Megan and I stumbled into their apartment, drunk on the stupor that was our evening, we put down our equipment and Megs said, "She needs alcohol. Now." Perhaps Megan mentioned this because she witnessed firsthand the horrors of Ohio, or perhaps because she witnessed my reaction which, in the safety of Huckleberry Fit, was cursing to a degree that would make a sailor not only blush, but hide his ears under his pillow and pray to never hear the F-bomb in any circumstance again.
Kristin grabbed the glass, Eric the bourbon, me the couch.
At first, I couldn't speak. I just gulped whilst Megan attempted to re-enact the date. Eric poured me a second glass and as it seemed we were not getting the point across, Megan pulled out the footage and we all watched in absolute horror as the train wreck of a date went from bad to horrendous to state-declared disaster zone. Kristin covered her dropped jaw with her palm, and Eric had to leave the room until this raw showing was over.
And then, we talked.
Kristin and Eric are both English and writing professors. Thus, they are as all good professors are: critically thinking beings who argue passionately, discuss professionally and chatter lively. What ensued was not so much a statement about my date's character, but rather, my reaction to his character. Why, they wanted to know, did I not tell him he was being a complete dickwad, stand up, throw my drink in his face and leave? A good question. Ohio certainly deserved it based on what he said about my looks, my producer, his own serving staff, his cooking staff and former high school instructors.
But it's not in my nature to make someone, even a first class crunchberry, feel badly about themselves. What if Mr. Ohio had gone home and hurt himself based on my actions? What if he had lost faith in humanity? And maybe, just maybe, I was being overly sensitive. I can handle frustration, pain, shame and someone making a fool of themselves. Could he?
Kristin immediately jumped in lady-defense, asking what I'd tell another woman in my shoes. Would I want her to think she had to stay on the date to be polite? Was I making a statement to womankind that it's okay to accept someone who is a buffoon in order to keep his ego intact?
At this point we were arguing for the sake of arguing, grinning and giggling as we went at it at 2:00 a.m. Like overzealous graduate students, we couldn't stop talking (or drinking); but we never managed to reach a conclusion.
So who do I want to be? The girl who bears with a jerkface just to be polite? Or the girl who can stand up for herself and say no when situations go sour?