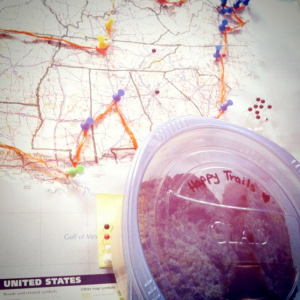 I was very casually dating a nice boy before I left to go on a first date in every state. Will is a very nice guy who, when I told him at our first meeting what my future had planned, simply said, "That's okay. Let's keep this casual. And I'd like to take you to dinner now." His nonchalance was a relief, and it also made me appreciate his ability to be rational.
We hung out about once a week for the four weeks leading up to my departure, exploring rambling county parks, experimenting with photography, hiking old cemeteries, eating ice cream, and eventually ending our fling on a classic dinner-and-a-movie date.
Strangely, we also spent time actively discussing my process of trying to line up fifty first dates. Yep, this gent who really did seem fond of me — even saying so as we said goodbye — happily chatted about male dating profiles, listened to my stories about who was saying yes and no, cheered me on when the project had successes and was empathetic when the project struggled. Which made me respect him even more.
My easy breezy time spent with Will made me realize something: perhaps the best thing we can do as daters is enter each date with a mindset of friends with potential rather than assessing whether we want this person to be our life partner. If you like someone today and you want to see them again tomorrow, then maybe that's what really matters when you meet. Everything else — well, we can deal with that later.