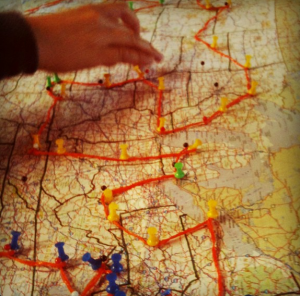 Journeys are about making a choice, and holy skate-shop, Batman, I sure as heck never dreamed a message on a Volcom sweatshirt would be the deciding factor for what will be the most gutsy endeavor I'd ever take on. Yet ten years ago, a girl stood in front of me, with script across her cotton back stating "All good things must come to a beginning."
So when the boy I had the pleasure of sharing tea, podcasts, and long walks around the lake with said he was kaput six months into our datingship, the good thing I had going could have come to one of two things: an ending, or a beginning.
I made the choice of forward motion, reaching for what possibilities may be instead of pondering what had been. In fewer words, I chose to begin. Yes, most people probably would have done something easier, like gone on a tour of an ice cream factory and called it a day. Or heck, even just eaten some ice cream. We all know coffee-cookie ice cream from Fenton's freezes heartache. But there has to be a better way – with less calories, too.
Funnily enough, going on a physical journey tends to be the key to going on an emotional one. Let's get the odyssey started.