Back at the tender age of 19, I decided to make a list of qualities I wanted in a partner. A hope chest on college-ruled paper. I wish I could remember what informed this choice – was I emulating my social circle? Perhaps I felt I needed reminding so I could stay the course (you'll notice this list there are qualities that seem obvious, which makes me wonder about…a lot of things)? Maybe even back then I believed in at least asking the universe meekly for something?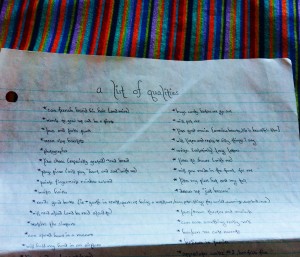 I remembered this list existed when my roommate and I moved in together and were talking about idiosyncrasies, moments from young adulthood, and eventually, the book I'm trying to write. Curious to see what past me dreamed, I spent an hour on Christmas digging the list out of an old shoebox, decorated in penguin stickers. And now, after lots of giggling with Laine, who got the first read, here is the list of qualities (with no capitalization because that is how I used to roll):
– can french braid his hair (and mine)
– wants to grow up and be a pirate
– loves and looks punk
– wears slap bracelets
– photographer
– likes cheese (especially grated) and bread
– plays piano (will play 'heart and soul' with me)
– paints fingernails rainbow colored
– writes haiku
– reads good books (ie: 'youth in revolt,' 'the perks of being a wallflower,' 'harry potter,' 'the things they carried,' ee cummings, copeland, seuss)
-will read out loud to me (and be read to)
– watches the simpsons

– can spend hours in a museum
– will hold my hand on an airplane
– likes to dance (or watch me)
– cleans up beaches
– rides a longboard
– knows about yoshi's
– knows more about jazz than me
– plays another instrument, too
– can sing (and does)
– doesn't mind me singing to destiny's child
– can expose me to good movies/books/music (or is willing to be exposed)
– visits me at work
– wears cute pajamas
– gets along with and relatively likes my friends (esp. jessa, erin, simone)
– plays in sprinklers
– holds my hand while driving
– thinks david bowie looks HOT in labyrinth
– likes/tolerates my so-called life
– is athletic (esp. soccer, swimming, badminton)
– smokes the Occasional clove
– buys candy before we go out
– will pet me
– likes good movies (american beauty, life is beautiful, titus)
– will listen and reply to silly things i say
– writes (relatively) long letters
– likes to shower (with me)
– will pose nude in the forest for me
– likes my pink hat and my tail
– dresses up "just because"
– loves/knows theater and musicals
– can cook something really well
– has/can use cute accents
– believes in fairies
– appreciates waltz #2, ben folds five
– feels infinite when he hears 1979
– believes in the power of telephone calls
– lets me cover my eyes during scary movies*
– thinks hot chocolate is a miracle food
– likes to go out between 11pm and 7am
– swing dances
– understands the importance of and will watch the sunrise
– brushes my hair
– sings in the shower
– plays in the rain with me
– is sparkly and spunky
– runs around without shoes
– knows constellations
– speaks another language
– gest excited about bakeries
– is good with little kids and grandparents
– likes sushi a lot
– whispers intimate things in the dark
– knows the names of flowers
– likes ice cream (esp rainbow sherbert)
– remembers his dreams
– knows where to find cute restaurants
– would be able to order for me
– isn't afraid of silence
– oragamically inclined
– has a tree house
– wears flared corduroy and orange sweaters
– has something pierced
– punctual!
– likes disney movies
– gives good massages
– makes me less tense
– will like in bed with me in the mornings and talk
– will wake up early
– can build things
– owns records
– can sing to frank sinatra
– dances around his room when he's alone
– has a job
– has a favorite painting
– reads my writing and likes it
– supports my decisions
– someone i can cry to
– articulate
– let's me edit his papers
– likes wandering around the forest
– has good ideas
– calls me "sweetie"
– will hold my left hand and eat with his left hand
– wants to dance/make out to U2's with or without you
– has a favorite poem
– knows the words to method man
– can navigate santa cruz, san francisco, berkeley
– i can think of when i hear dido's thank you
– i feel safe enough to drink with
– likes the princess bride
– utilizes email
– will care for me when i'm sick
– can jump room
– will hold a box of tampons in the grocery store
– doesn't demand to hear me play french horn**
– is random and silly
– rolls down grassy hills
– likes to make collages
– has a sarcastic edge
– is mad-passionate about something
– likes be surprised with random gifts
– rolls down the windows on cold nights and turns up the heater
– knows every line to the secret of NIMH
– plays frisbee
– carries maps in his car
– will play the "tonight" game
– is spontaneous
– wears sandals
– will sing to good songs on the radio
– pass the "bug test"
– can gargle songs with me
As a 32 year old rereading this list, I have a lot to say about it. How younger me was onto some good points, but probably way too specific rather than being generic. How younger me was oddly focused on having someone who liked the same things I liked to a large degree. How younger me basically describes my last boyfriend to a really eerie degree. How my hope-chest list now would look different in length and content, but honestly, I'm not interested in writing this list – I'd much prefer to meet people where they are at. Who they are right now.
–
*In the words of Laine: "Who is this douchebag boyfriend you had who did not let you cover your eyes?!?!"
** Laine: "Oh, the same douchebag who forces you to play for him."