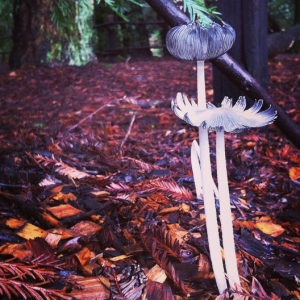 I pretend not to react when I catch sight of his hairline just past mid-neck. When I imagined this scenario, I'd assumed it would be his gray-green eyes I'd be avoiding, not the familiar curve of his glasses tucked just over his ear. Immediately I remember feeling the nubs of the tortoiseshell frames under my index finger, the slightly rough jawline beneath my thumb. We're closer in proximity than we've been in months, yet the distance between us is only surpassed by the 31 years before we knew one another. He raises his smart phone for a photo of the stage where kids half sing, half-scream carols.
Pulling a piece of hair from my side-ponytail, I lay it over my lip like a handlebar mustache while losing myself in the show. Nine year olds strut while balancing peacock feathers on their noses, eight year olds perform step, the whole kit and caboodle a picture perfect United Colors of Benetton ad, minus the wrinkled uniforms and ruddy jeans. Working class parents take turns standing, like prairie dogs poking up from the ground, to snag photos with flip phones. The scene is as heartwarming as it is breaking – everyone is trying their best, but it may very well be for nothing.
Denny, the six year old I've met with on Wednesdays for a few months, isn't performing. I join him on the dank hallway floor to give him a present.
"What is it?" he asks over and over again, his chubby hands running over the boring brown wrapping paper looking for an imperfect edge so he can get a peek of the gift. He asks me to read him the note I wrote on a Santa Claus embossed sticky, and he surprises me by leaving the tag in place.
Turn Down for What suddenly pulses around us and Denny hands me the present so he can use both hands to push himself up from the floor. He grabs my hand and leads me into the auditorium, watching the older kids perform martial arts moves. Every time he looks over his shoulder to make sure his present and I are still there, I dance a little and he laughs. I remind myself not to look into the crowd, where it's possible gray-green peepers would catch my gaze – or maybe worse, not. Before his uncle pulls him out the front door and into the rainy night, Denny and I take a picture together. He's hugging his present, I'm hugging my knees.
No one wants to forget this evening. They want it captured in their phones so they can coo about it when they run out of holiday dinner conversation. No one ever thinks about how in the future, they may want to forget.
The inevitable happens quickly. First we exchange smiles, then hugs, then small talk. An inside joke accidentally leaves my lips and I pretend it didn't happen, a second one slips by and he pretends too. Our conversation is as careful as a tightrope walker's footsteps. It's over too soon but not soon enough.
Underneath the uncertainty of expectations for the evening rests a feeling I never anticipated: okayness. Okay is not how I ever wanted to feel about everything. As much as I had to get to to this feeling, I also hoped to never get here. But I realize something bigger: if he is happy, then I am happy. And that is what makes everything okay.