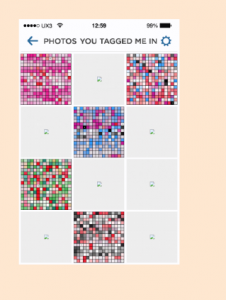 Breakups put a knot in your heart, a stopping point for the old you and idea of an us. And modern gadgets, along with social media, keep that knot squeezed tighter and tighter, making if hard for a slip of a ribbon to eek out and precariously begin to flap anew.
Sarah Hallacher observed of all tech-triggered emotions during her last breakup. Instead of doing something totally wild (cough – going on 50 first dates – cough) she channeled her feelings into an interactively powerful program for anyone who has had their heart smashed in the digital age: The User Experience of a Heartbreak.
Set up like a Google search, start typing to see a list of possible ways you'll run into your ex again and again online. To say I have favorites sounds kind of sick. So my favorites aren't "private instagram photos of you" "your mom defriended me on Facebook" and "gchat" – those are instead the pieces that shook me by the shoulders until I opened my mouth and let them live in my spinal chord. In other words, they're the ones I identified with in a way I assumed no one else had noticed or felt impressed upon before now.
Check out her exhibit (for lack of a better word) and read more about her piece over at Co.Exist