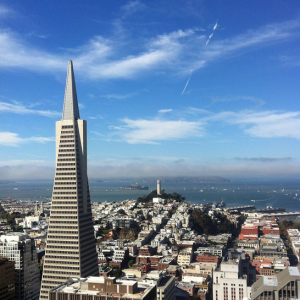 Last week, my work rented out a spacious, crazy-amazing deck on the 40th floor of a fancy pants hotel in San Francisco with the express purpose of watching the Blue Angels practice their stunt work for Fleet Week. Wind gently whipped across my face, rose sparkling wine flowed freely, and I felt at peace with life, the universe, and everything.
"I wonder where the best view of the Angels in the city is," a coworker mused, swirling his gin and tonic.
Another coworker pointed toward a stack of apartment buildings near the Presidio. "Gotta be those," he said, taking a sip of his beer.
"Isn't the best view the view you have?" I asked them.
I didn't mean to sound snotty; I simply couldn't fathom comparing what we had versus what could be. We had a view of the Trans America building, could see the planes fly over the ocean and over the city, and could feel the vibrations from the engines.
Afterward, while at home and nursing a burrito while slightly intoxicated, I couldn't help but wonder if that held true for relationships, too. Isn't the good relationship you're in better than any relationship you could have?