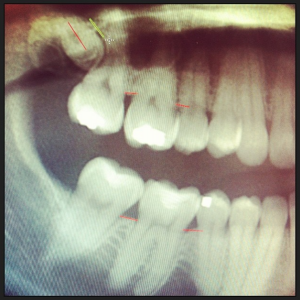 Noticed a slight downward tick in posts? Fret not, it's only because Alicia had oral surgery — and admittedly, that means she was in a slight anxiety spiral about the whole endeavor. Luckily, her wisdom tooth is out, and once she's off pain meds she'll be just as wise as before (with even better oral hygiene!). But don't worry. There's plenty of fun dating-related content coming up, including book reviews, more guest bloggers, insights from a year after the trip, and more.
For now, Alicia is going to stop watching letters swirl, and not do any writing at all – just about all she has the attention span for is multiple episodes of Say Yes to the Dress (from which she has learned she will probably never wear white, cream, ivory, or even champagne. She's going be a pink/red/black/sparkly bride when that day arrives. Or maybe plaid).
Want to send flowers or words or wisdom? She'll take both.
And as always, if you miss her, you can always follow 50/50 on Twitter, where both Megan and Alicia tweet about the goings on in dating culture.