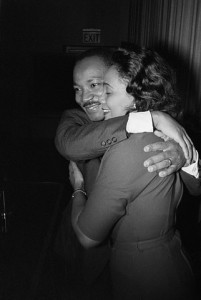 Martin Luther King Day is one of my favorite holidays. I couldn't really say why (maybe it's because he said things like "We must accept finite disappointment, but never lose infinite hope"), other than I've always had an affinity for MLK, and also the holiday falls exactly when one needs a holiday, and when weather in California tends to be unseasonably warm, and thus ripe for hiking or day adventures, or even a weekend away (did someone say Hearst Castle?). Also, I love turning on the radio and hearing Dr. King's voice coming over the speakers, transporting me back to a time before, and helping me understand what life might have been like before I knew what life was.
"I have decided to stick to love…Hate is too great a burden to bear." – MLK Jr
Happy MLK Day, friends.