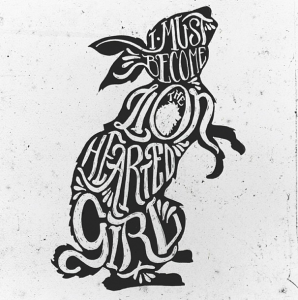 Ed. note: Wow. There is nothing like when you totally realize you posted a draft, not the blog you meant to post. Sorry about that yesterday, kittens.You now have a slight insight as to how I build out ideas…not terribly exciting, eh?  
I stumbled across the photo accompanying this post while falling down a social media rabbit hole (pun intended). Was I on Instagram and then Facebook? Maybe Facebook and then somehow, Pinterest? Anyway, despite Googling the phrase inside the bunny, as well as phrases like "words in a hare" I have not been able to conjure up the artist – if you are able, do let me know so I can thank them.
The past few weeks have left me with anxiety, a bit of teeth gnashing, lots of thoughts of fear and what fear does to human beings, and wondering about beginnings and endings and truths on grandiose scales. When I saw this little rabbit though, replete with the message "I must become the lion hearted girl," I thought – oh yes. Of course. 
My ponderings of relationships and the human condition lately sure stem from within me, whether I'm conscious of why or how, or not conscious of it at all (and in reading things I've written and thought, both in draft form and in publishable content, I can't help but think I sound a bit angsty. Angst is something I do well, though). Angst, fear or any other feelings of puzzlement and skepticism about the world can really only be settled by one of two choices: acceptance, or overcome-ance.
Accepting or overcoming fear, finding courage, desiring to live a beautiful life, and striving for honesty in the moment and in the forever have been themes of my on-going autobiography lately. Regardless of which path I choose, I'm going to need a lion-heart that I may not feel I currently possess.