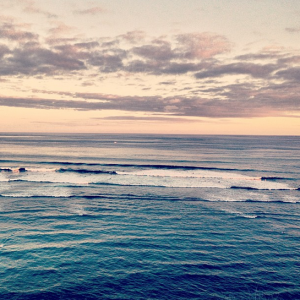 It's so weird to be somewhere that feels familiar but you don't know why. Honolulu feels like that. I know there's family history here, I know there are stories of my grandparents, my mom, and even me that reside here, but they're all distant memories, faded too far by gosh knows what. The weirdness feels right, too; Megan and I are certainly acting a little weird.
We're not talking. We're keeping the fact that this project is effectively over a secret from ourselves. I'm not sure how Megs is coping since we're not talking about it. Me? I'm anxious, jittery, trying to put things in lines, trying to keep everything in check. I'm offering Megan an anxiety pill because Lord knows I need one now, if not for the impending flight but just because I've never excelled at saying goodbye. We sit bikini clad on the beach instead, play in the ocean together and look out at the horizon.
* * *
Hawaii isn't just familiarly historical to me. Honolulu was the place my ex (the ex) had planned on for his destination wedding – the marriage dissolved a month before it began. His whole family went to the destination without the wedding, and without him.
I went on the road for a lot of reasons, but I also went on the road to forget him. And indeed, I've nearly forgotten him. I'm not sure how long it took, or when it even happened. At some point I noticed the pain I'd felt before was gone. There was no need to have him understand me, and there was no need to try and understand what happened between us. As awful as this sounds, I didn't care what he thought about 50/50 anymore, if he was angry or annoyed that I had publicized part of our story or my feelings. He wasn't an issue anymore. I wrote, and I quote: "Is he pissed a project was spurred in his honor because I let my heart be broken? #dontgiveashit"
* * *
Hawaii is also what spurred one of Megan's and my most honest and compelling conversations: the kind where you lay out your vulnerabilities, where you go from not understanding to comprehension. Hawaii is how, in my mind, we went from saying we were friends to actually being friends. While we never meant or needed to prove our dedication to one another (I think the road trip solidified that), we did.
I think about this while Megs continues to romp around in the ocean. She's clearly somewhere between gleeful child, curious teenager and enthralled adult, able to see the Pacific through each of those lenses, which is one of the many reasons she's a remarkable person.
* * *
There are many times in my life I could only see situations through one lens – childlike, teenagery, or some bizarre hybrid of adult. This is not one of those times.
The sense of loss I feel from having completed fifty first dates isn't accessible by words. I just know something is missing at every second of the day and night. Fitful bouts of sleep lead to dry mouth in the morning, irritability all day, and a sense of displacement I keep hoping will spin away on a moment's notice. I'm consumed by an overwhelming sense of nostalgia and forward motion competing for my attention. As I look back over the last year – yes, it's been just over a year since the inception of 50/50, when flurries of emails and an innocuous meeting at La Note took place – I don't see words or cameras or even a story. I see images of people raining down, of roads at warp speed, of waving goodbye to who I used to be.
* * *
You think beginnings are hard? Endings are hard.
Post Tagged with
50 first dates
,
beginnings
,
boyfriend
,
breakups
,
dating
,
ending
,
first date
,
getting over him
,
girlfriend
,
goodbyes
,
hawaii
,
honolulu
,
online date
,
relationships