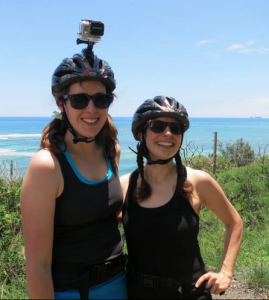 When we're not dating, Megs and I are still dating. It's impossible not to. No, it's not like she and I are actually dating in the sense that we're intimately connected, but our friendship is a mix of business and social, and can feel more like a relationship than a simple palship.
Sometimes we're working with one another directly, and sometimes it's us working in tandem. Megs and I have come to a point where we play off each other; our opinions differ but it keeps the conversation lively. When conversing with strangers we have different least favorite date stories from the road and similar reasons we loved exploring America. Like any good couple, we're a Venn diagram of commonalities and divergences.
As a gift to ourselves (from ourselves), Megan and I spent our first full day on Oahu going on a guided mountain biking tour through a privately owned piece of the island often used as a Hawaiian Hollywood of sorts. Signs for movies you've never heard of stand in valleys while signs for Jurassic Park, Lost and 50 First Dates are more prominently displayed (the former having it's own patch of road that allows a bus tour to come through). We were joined by three couples and a rambunctiously enthusiastic guide.
Throughout the hour long van ride to the site (and back again) and the four hour mountain bike extravaganza through mud, over rocks, down hills, in ditches and on outlooks, the nine of us got to know each other's stories. Our guide had been on the island with his fiance for a decade. One couple had met in high school, another was raising five boys, and another had been married for almost twenty years. Of course, then there's Megs and myself, the neophytes of long-term relationships. These strangers were instantly our friends, and we looked to each other for moral support and comic relief during the ride.
Megan and I wound up talking about 50/50 during the van ride home, and the LTR couples all had something to say on the topic of how relationships stay together and how they thrive. The consensus was that long-term relationships take effort. They are in fact (as Ben Affleck pointed out publicly) work. The romantic notion that people have about the best LTR's being a cakewalk are wrong – and likely unsatisfying – and the best ones have hit bumps in the road and stayed together regardless.
A bit later, after talking details of the trip, one of the men bluntly asked Megan and I how we get along. It's funny – we both balked and awkwardly agreed on "mostly well" as our final answer. And I couldn't help but think about what these couples had just told us – that their relationships with their partners weren't smooth sailing. Couples who admit their relationship takes work seem to be the most authentic and closest couples I know, and I wondered if the same could be said for friends who are also business partners (or even just plain old friends).
See…there's this expectation that friendships are easy-breezy. That you automatically know how to be friends and work together, to problem solve and compromise. Of course, that's not true at all. It takes time, communication, trial and error. And it takes boundaries. The most interesting friendships I've had are slow-burns, where we like each other but felt each other out. They're the friendships where one of us has said "I don't want to talk about X" loudly and clearly, or the ones where we've been able to disagree (first with bad results, later with better results). They're the friendships that have allowed both parties to vulnerable.
What is it Brian said to me a few days ago? "Nobody wants to work with someone who doesn't have any balls." The same goes for business friendships, too. I hope next time Megs and I are asked how we got along on the road, our "mostly well" is said proudly, not shyly. I think it says a lot about us as individuals, and as people who are able to work with others.
Post Tagged with
50 first dates
,
advice
,
biking
,
boundaries
,
boyfriend
,
communication
,
dating
,
first dates
,
friendship
,
girlfriend
,
hawaii
,
jurassic park