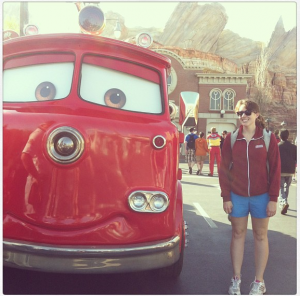 Ed Note: Before we begin, got some cool news this afternoon: the 50/50 Twitter feed was named in the top 200 feeds for info about dating! Read about that cool tidbit on the dating blog that named us here. Okay, back to the LA speed dating! 
After spending a few days in Alaska, where the air was brisk and boots were the norm, the slow and steady warmth of Los Angeles shocked my system. I function best when being a tad chilly, so the rotisserie feeling associated with being in Southern California in spring does not sit well with me. Luckily, my homestay offered me iced water, terracotta flooring, and conversation which required zero movement from one spot on the couch for hours. K and I talked boys and dating –she's one of many friends who recently rejoined the singles community after a long, monogamous relationship – while I filtered through Craigslist ad responses and kept my fingers crossed.
I took a sweaty, flat run to ease my nerves. An ad on CL always feels like the epitome of "putting myself out there." With a photo, words, and the potential for thousands of people to spot me and respond to me, I suppose that feeling wasn't incorrect. Once back at the K's home, I fell into a deep but disturbed slumber, the kind where dreams are intense but you're waking up every thirty minutes or so, shocked out of the dream and into reality, then back down in again. All this stress for the happiest place on Earth? I know – totally weird.
Remember how Megs was a NYC in 24 hours pro? The girl could seriously lead tours in busy places for maximum enjoyment and her Disneyland tour was no exception. She'd managed to caffeinate me before getting us to the park, schmoozed with a guy on the tram about movies, and we were at the front of the line at gate drop so as to make it to the newest ride, Radiator Springs (which was stunning), with ease. With so much fun happening, it was hard to want to meet strangers from the internet – but as Megan and I had learned, the dates we weren't excited about tended to be the best.
Tended was the operative word in that last sentence. My first date texted to tell me he was at the entrance, and I suggested we meet at Jungle Cruise (my favorite ride, which I'd mentioned to him in our brief correspondence over email). He texted back, agreeing, and when I asked how I'd recognize him he said he had "long blonde hair" and was "wearing a long-sleeved gray shirt." Given that it was over 85 degrees, the shirt was a strange choice but hey – made him easy to spot.
The fact that he gave me the wrong hair color did make recognizing him more challenging. As he shook my hand, saying "You look just like your photo!" all I could think was, "You hair is definitely gray and not blonde. And longish, not long." I couldn't help but wonder if he was aware he had fibbed, or if he genuinely hadn't accepted the change age had made to his 65-year old body. Jungle Cruise's line was topping out at 30 minutes (slightly unheard of for the ride) but we bumbled into line together and began talking.
Well, I began talking for a hot second. I asked a question, and then my date was off and running. Though he'd emailed me what basically felt like his life story or resume, he proceeded to launch into his qualifications for a job and monologued about his talents, experience and skills in the workplace. As I tried to steer the conversation toward education or family or dear me, anything else, he plowed over my questions and eventually handed me a business card that expressed he was a professional in the "Word Process" world followed by another one that had his teaching information on it. He didn't stop talking for the entire line, and though I tried to interject multiple times to at least even ask questions, he still kept running his mouth. I eventually stopped giving him social cues that I was listening, and when we got in the boat and he continued to yammer I turned my body away from him and faced the Jungle Cruise guide with rapt attention – which my date did pick up on and was blissfully quiet for the duration of the ride.*
When the ride was over, I gave an awkward goodbye and Megs and I walked purposefully away. The man had been nice enough, but it was clear why he was online dating on Craigslist to meet women – he didn't have all the social skills tools to meet people in person and that all might come across in a photo on a different dating site.
I checked my phone. Megs had sent me a text during the date that say, "I'll buy you a Dole Whip after this." Thank gosh for friends.
–
*At least to me. He actually turned and started yakking to Megan.
Post Tagged with
advice
,
boyfriend
,
communication
,
craigslist date
,
disneyland
,
first date
,
girlfriend
,
jungle cruise
,
la dating
,
radiator springs
,
speed dating
,
tour