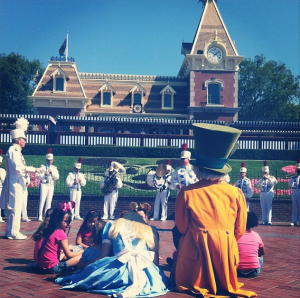 Before we were even near the Grapevine, Megs and I had decided to try a new dating tactic: speed dating in Disneyland. Which meant I needed a date (or two, three, four, five) fast. And in order to not feel weird about suggeting a five minute to hour long date with someone, I needed men and/or women who were either going to be at the mouse-themed amusement park already, or who held season passes so it wasn't an expenditure for them to go on a quick date.
While on the road, I'd learned that Craigslist is a great place when you need to find a quick someone. I'd also found out the hard way that it's best not to post my phone number on a CL personal ad (and I'd like to take a moment to thank AT&T for their number blocking system). With that all in mind, I posted a pithy self-description and project description of 50/50, along with a photo that made me look appropriately one step below Amish (to try and alleviate the number of potential dates who fetishize the Amish or Quakers or buttoned-up gals in general) and sunk myself to asking for a a specific subject ("Your favorite ride at Disneyland") to attempt to filter out "spam." I wasn't sure what this so-called spam would be, though most of other legitimate-sounding posters seemed concerned about it, so I figured I wanted to fit into that category and thus would be concerned as well.
I'd like to state a few things before I go on:
1) Craigslist pulled my ad within 6 hours of my posting it.
2) I had 120+ responses, all from self-identified men, in those 6 hours
3) I love online dating, and hopefully this isn't a moment where we are making fun of dating or responses; rather, this is a moment of reflection on what happens on Craigslist in my experience, on the negative side. And because sometimes I'm accused of being too Pollyanna about online dating, or perhaps simply lucky. The truth is, you sort of have to take the bad with the good and roll forward. But for a brief moment, I'm going to step down from my "online dating is rad" pedestal that I perch on most days more mightily than Napoleon sits on his white horse to say that when it comes to responses from a Craigslist personals ad, online dating is the pits. It's not just the pits – it is crunching down so hard on the olive pit when you were expecting seeded olives that you think you may have cracked your tooth and immediately run to the mirror to investigate.
4) To be very fair, for every 25 weird, seemingly "spam-style" messages I received, I would get a message that maybe wasn't conventional in terms of online dating, but that was polite, perhaps interested, and sometimes even complimentary without being degrading.
Okay. End justification.
Dare I say enjoy? Maybe you'll just cringe.
Note: this post may not be suitable for everyone of every age or people sensitive to graphic words (though admittedly, I omitted the worst of the worst). Also, any names or possibly identifying details have been changed to protect the innocent/guilty as it were. 
hello gorgeous…

  Im henry, love pirates of carribean, and you ,maybe

  friends first?  dinner and good conversation, if alls good date!?
My name Donny a inventor want to go to the fox TV studio with me and do a commercial. Its only $100,000 month income but helps with other projects to get done you can say wow oh my god later. You can also say Donny your crazy and insane and gifts god given you unimaginable I even dont know why he pick me
 I'm sure by now you've received a ton of email (mostly containing random body parts, I will NEVER understand why guys do that! sheez!).. but I'm hoping you won't mind one more from an all around nice guy, who can form complete sentences that don't involve dude or wazzup, and doesn't have any scary facial hair.
All you want is a free lunch. What a gold digger.
Hi how r u im ok but single sucks well hmu
Awe girl, to heck with the formalities. Speed date your way to my hotel and we can have an hour of "real" speed s(sic)ating. Ditch the friends for an hour tonight and come to my place. Safe discreet, just me and you having some fun. Then we go our separate ways.
Speed date…lmao damn you don't play around…so in other words if your bored your quick to move on but a real relationship takes time and is up and down so you will never see a real relationship..Good luck
I have a swimmers body. I am a physicist and have a good career. I have several patents on microwave energy type devices.
I forgot to follow your instructions of putting my favorite ride in the subject line of my email which is the log ride
 (TURN ONS) Dirty Talk/Exotic Macking/Doggie Style/Adventure Seeking & Movie sharing
(TURN OFFS) TOO MANY TATTOOS/PIERCING OR ATTITUDE,(seeking ages 25-45)UN faithful/secretive/dishonest/two face/Snobby/flakie/obnoxious/lazy/racist/BIG-smart ass/OVER religious/junkie/conceded/rebel/teaser/ghetto/jobless/no license/boring/easily distracted/traumatic/condensating/bipolar/tomboy/ boozer/hypercritical/criminal/OVER occupied work-school or social/promiscuous/selfish/aggressive/pretentious/insensitive/thuggish/gothic/dismissive/over cautious or instinctive! The opposite of what's listed I desire, Impractical or unrealistic these opposite qualities I won't find in a MATURE lady.
Your idea is lame. Like really lame. Good luck with that idea.
–
What baffles me most is the amount of guys who took the time to read my post enough to understand the basics of what I was doing, then turn around and tell me precisely what they thought of the concept – and this happens in online dating even when you're not jumping outside the dinner-and-a-movie box. People on OkCupid or in the perilous real life have told me I'm clearly a lunatic for something about myself (think neg guy a few posts back), too. I guess I can't help but wonder if you're spending the thirty seconds to two minutes it takes to read through CL, select my post to read, think up a response, type it on your smart phone and send it, why aren't you setting that time toward something productive like actually trying to meet a date you're interested in?
I'm clearly missing something here.
Post Tagged with
boyfriend
,
craigslist
,
dating
,
dating stories
,
disneyland
,
examples
,
girlfriend
,
ideas
,
la dating
,
online dating
,
personal ad
,
relationships
,
speed dating