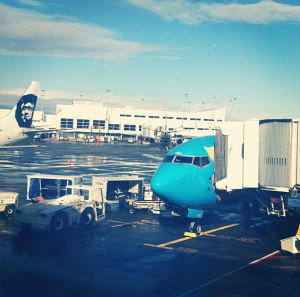 Through fortuitous events, Megan and I wound up flying First Class to Alaska. Most people are probably thinking OOO! First Class! right about now, but believe me when I tell you only two thoughts went through my mind when I found out about this switcheroo:
1) Does this mean we have to board sooner?
2) Does this mean the booze comes faster?
Much as I like to get out in the world and experience everything and anything, I truly am panicked  about taking to the skies. It starts before I've even booked a flight. Simply looking for a ticket into the air is enough to get my heart racing and my eyes hunting for an escape route (the little "close tab" button works nicely in this scenario). From there though, it's a day-by-day build of anxiety culminating in at least one nearly sleepless night, night sweats galore, and the overwhelming urge that this is it. I often treat myself to a chocolate chip cookie around the day preceding the flight.
Perhaps needless to say, much as I was looking forward to Juneau…I wasn't much looking forward to getting there, despite First Class. They make you board first on FC, meaning more time sitting on the plane, staring. And as I quickly learned, you are not allowed to drink alcohol until you're in the air and the fasten seat-belt sign has been turned off. Thankfully, I'd pre-partied at 4am (yes, our flight was at 6am and I was at my house taking a shot and a half two hours before) so my nerves had been soothed enough to get me dully through security and into the terminal.
Megan stared at my face, sat me down, introduced me to The Soup, and went off in search of coffee. "Just hold it," she said when I couldn't stomach taking a sip. "It's familiar. You'll feel better." I stared at the screen, wondered when I should take my anxiety pill, and tried to focus on the fact that I'd soon be on a date in Alaska.
We boarded. I tried to remind myself that I've done this before, to think about how far I've come in the last four years (from being a non-flyer who once ran off an airplane to this, here and now, where I was willingly staying put), to just remain calm.

Though I started with just one anxiety pill, I upped myself to two almost the second I could get my hands on a liquid to swallow another capsule. From there, I took to ordering whiskey at classy-o'clock and golly gee, the layover and the second flight were but a fuzzy memory. Somewhere in there I ate a bagel, naps were taken and voila! I stepped off that second plane relatively unscathed, shockingly awake, and ready for whatever Juneau had to offer me.
Post Tagged with
50 dates
,
alaska
,
boyfriend
,
dating
,
fear
,
first class
,
first dates
,
flying
,
friends
,
girlfriend
,
juneau
,
online dating
,
relationships
,
the soup