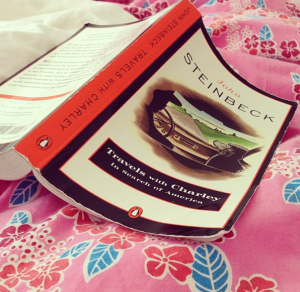 Post drink and fries with Noah and Mrs. P (Meg's flower-bearing mom), we unloaded Huckleberry Fit for the last time, with a cavalier attitude thought not in any way, shape, or form carelessly. Then Megs got in the van with her mom, Noah gave me a hug and got in his van and I…well, I sat in my car, stared at my steering wheel, and was truly alone for the first time in over two months. I didn't have a place to stay (I'd given up my apartment to take the trip), I didn't have a determined goal for the day.
Yes, I could have driven thirty miles to my parent's home and slept there. Or I had several friends who had offered to put me up. But it all felt like a step backward. I had just been in forward motion, constantly on the go and constantly thinking, "What's next? How do we get there?" and now…I had nothing. I sat in my car, which had oddly become one of the most comforting things in the world to me, and tried not to cry. It felt pretty horrible to set out on an adventure only to feel like I wound up exactly where I started.
Except actually, everything could be different. And as so much of my life had been lately, it all started with a date.
True story: the second thing I did after arriving back in California was go on a first date with someone I had never met in person. I'd run into Adam on OkCupid accidentally while looking for dates in other states, and despite his being back in the Bay Area, we started messaging one another in a very typical online-dating fashion. Adam and I had spent time slowly getting to know one another over the virtual airwaves, starting with emails, moving to phone calls, and eventually texting. My eagerness to not be distracted on my trip, and my determination to constantly remain open to what was in the moment meant I'd kept Adam at a bit of arm's length, hovering somewhere between the friendship zone and the potentiality zone.
In retrospect, I can't decipher if the choice to go on a first date was brilliant or ridiculous; I suppose it was actually both at the same time. On the one hand, I felt isolated from my previous life in the Bay Area. One another hand, I wasn't really ready for the dating adventure of a lifetime to end. On yet another hand, I was ready to put into practice what I'd learned on all my first dates and from spending time with Megan with another human being. And in a way, it was the only choice that kept me moving forward, and eschewed any sense of regression.
I pulled on the only clean clothes I had, tried to wipe the car-daze from my eyes, and drove toward the only future that made sense.
Post Tagged with
50 first dates
,
50/50
,
boyfriend
,
california
,
communication
,
dating
,
first date
,
girlfriend
,
okcupid
,
online dating
,
relationships
,
road trip