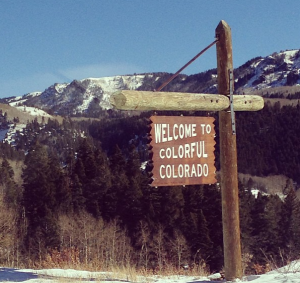 Before leaving Los Alamos a few more noteworthy things happened:
1) While on a run I heard an episode of Snap Judgement that told the story of Argo which I highly recommend as while the movie was good, the radio piece was better.
2) I had a really long conversation with Mike from North Carolina. Like, laugh out loud, joking and talking. I probably should have been online dating for Denver but alas.
Anyway.
Being on the road means we are constantly lost. Lost in thought, lost in conversation, lost in contentment…and definitely lost in our place in the world. Literally. Half of the time I don't know what state we're in, let alone what highway or city. Megan taught me to read the sun, so as long as it's daylight I can tell you about what direction we're going in and other than that, forget about it. Needless to say, we often wind up on roads we weren't expecting.
So when we found ourselves 10,000 feet above sea level on a snowy, two-lane mountain road, we shrugged, patted Huckleberry reassuringly, and kept going forward. Sure, we'd meant to take the flatter road through the mountains, but life gave us a beautifully dangerous drive on a full tank of gas. How would we say no to that? With Megs gripping her seat, me gripping the wheel and Huck usually gripping the road, we experienced snow in a way I'd never seen.
Back on the flatlands, we checked in with our homestay, Megan's aunts, who insisted that being late was horrible and what we really should do is stop at the Great Sand Dunes National Park, a ginormous amount of dune-age in the middle of Colorado. As a native Californian, I've seen dunes before, but always near the ocean. This new way of seeing dunes, a pile of what looked like tiny hills on the mountainous landscape, was something else.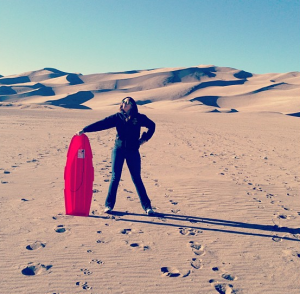 At the Visitor's Center, we tried to learn about the dunes but were distracted by two hippie looking men who were dropping off a sled they'd bought to use dune-side. "We don't need this anymore," they told the rangers. "Can we leave it here in case someone else wants to slide the dunes?" The rangers looked dubious until Megs and I immediately came over and asked to borrow the sled. Then, like two giggling middle school girls, we ran out to the dunes to have a go.
I'm going to let your imaginations do the work here, but suffice it to say that the outtakes of us learning to use the sled and finding the right sort of sand are a riot, and Megan proved to be a far better sand sledder than me.
Back on the road, the sky darkened in what felt like the blink of an eye (I might have fallen asleep after all the fun) and soon we were navigating some serious mountains outside Denver on a not-well-lit highway, searching for a turn off to go even further up another mountain. After a run-in with a sheriff we were thankful to find ourselves at the doorstep of T and MA, Meg's aunt's who had appetizers, wine, and grits souffle ready to serve.
The two women wove tales of Megan and her mom from childhood, and we talked art, politics, family situations and sociology all before we were anywhere near done with our meals. Except Megan, barely having touched the food on her plate, suddenly turned the color of ashen pea soup (if pea soup were ever to be ashen) and excused herself from the table. Moments later, Aunt T was playing caretaker while I sat helpless and wordless with Aunt MA. Megs had gone from healthy to not healthy in a matter of minutes.
And we had a date tomorrow.
Yikes.