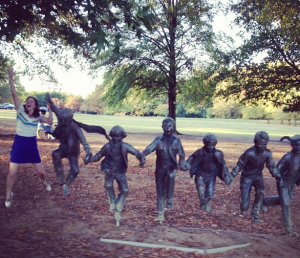 Holy. Smokes.
Megs and I were prepared for one heck of a lot of trouble on the road. Our emergency kit was more like a storage locker, stocked with everything a Girl Scout, an Eagle Scout, and an overprotective father plus two nurturing mothers might consider packing. From emergency reading (a romance novel…hot!) to flares to jumper cables to Clif Bars and water, we were ready to be stranded on a moment's notice. What we were not ready for was being deemed as spammers and losing our ability to find a date.
Upon leaving Panama Beach, we couldn't find a breakfast spot. Not a Starbucks (or a cafe of any sort) in Yelpable site, and the one donut place we passed was closed (on a Sunday! I thought church and donuts were a thing. Cruising on a two lane highway we passed a dive diner with coffee pot mascot, and with almost no debate an illegal U-turn was made and we were thanking the pancake gods for whatever chow they had sent our way (which in my case meant an ice berg lettuce salad and fried eggs. Megs fared better with biscuits and gravy, plus the portion was so huge she had leftovers and thus lunch).
With Megan at the helm of Huckleberry Fit, I opened my laptop in hopes of checking in on a few guys I'd heard from in Alabama, and maybe even getting some writing done. Ahhh, we settled into listening to Stuff You Missed in History Class when I realized I was having a hard time logging into OkCupid. As in, I wasn't being logged in at all. Not on my computer. Not on Meg's computer. Not through my phone.
Panicked, I tried resetting my password only to receive an error message stating my account name didn't exist. Which seemed a bit insane since I'd had the account since 2007. I mean sure, there's the mysterious internet ether that sometimes chows on email attachments or bloggers you loved (really, what happened to What Claudia Wore's author?! Oh wait, she's back! She'd gotten a job. Thank gosh) but losing a whole profile after five years seemed fishy. And not Plenty of Fishy. Just frakking fishy.
Meg's suggested I just start a new account. Only my computer, from any browser, wouldn't let me. I'd been blacklisted and I didn't know why. What had I done to deserve such cruelty? Sure, I was feeling like the site's most active user (yeah, I message people all day long and log in about twelve times a day to scroll through photos of strangers). This must be how my dad felt when Costco tried to blacklist him from making returns (a policy which just didn't work out for them).
It was time to make some calls. Only, OkC is phone-numberless. Their office may as well be in that water-city Jar Jar Bings is from, partly because it's secret and partly because no one wants to bother going there for fear of swimming into Jar Jar.
I started sending emails to any address I could find. PR. Questions. Media. Business. Random names @ okcupid. I was hunting down people on LinkedIn. Finally, I found a phone number for a place called OkCupid Labs and placed a call. A ruffled-sounding male answered the phone, and I tried to explain my dilemma.
Me: "So, my livelihood and a lot of money donated by strangers is resting on OkC turning my account back on. I'm on fifty first dates – "
Him, ominously: "–Oh, I've heard of you." (Um, is that not a good thing? Do I have a reputation? I give a damn about my bad reputation!)
He took my email address, said he was an engineer and likely couldn't do anything. It'd been hours and I didn't have an Alabama date, or a way to get a date. Megan had been driving for hours and refused to let me take a turn at the wheel until I had a plan of attack.
Finally, I figured out that using an incognito browser allowed me to make a new account. Only, now I had to both fill out forms, upload photos and answer more questions than there are episodes of The Simpsons in order to start finding matches. And honestly, for the purpose of dating around the country, I reallllllly wanted to use the same profile the whole time.
Which is when Megan had the brilliant idea of sending an email to guys I have dated on this trip (and ex's I had met on OkC) to see if any of them saved my profile as a PDF or a screenshot and would send it to me. Brilliant yes. But who would admit to saving a profile? Megs said to have them email her and she'd keep mum. It was the only option I felt I had, so I sent the email. There it went to North Carolina, DC, Virginia, Maine, Connecticut, and yes, to no less than four guys from back home include the ex who I hadn't contacted since the break up. Desperation leads to a lack of shame.
One of the guys emailed back. Exact profile verbiage was possible, which meant I just had to answer questions and stitch in photos.
About a hundred and twenty questions in, I got an email from the OkCupid engineer who said he'd talked to the corporate offices and they'd put me back on the grid. Just like that, my original profile was back up.* Every message that may have been exchanged in the past 24 hours was gone but I wasn't looking a gift horse in the mouth.
Megs kept driving as it got darker, and I started looking for an Alabama gentleman. We finally got to listen to Stuff You Missed in History Class. 
–
*Curious, I looked at how much of a % match I was with myself (92%. Megs and I had better odds at 94%).
Post Tagged with
boyfriend
,
dating
,
girlfriend
,
okcupid
,
online dating
,
relationships
,
road trip
,
spam
,
stuff you missed in history class
,
trouble
,
what claudia wore