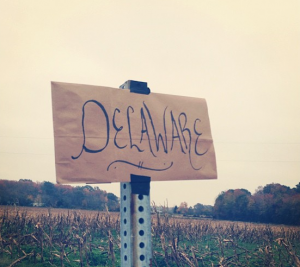 Oh, snap. Within five minutes of meeting Mr. Delaware, he'd used the term crotch rocket in front of me to describe his second motorcycle (his first being the gasoline leaking cruiser he'd rode to meet me at Old Dominion Brewery). I suppose I could have taken that phraseology as an indicator of this man's character, but seriously, I get awkward and say weird things all the time. So I let it slide, and we grabbed some beer tasters.
Perhaps I should note that I met Mr. Delaware on Craigslist. He responded to a personal ad I posted in a mild state of panic when it became clear that the singles of DE on more proper dating websites either weren't checking their inboxes or found me to be not their cup of tea. Not only did he respond but he showed up after ten minutes of me fretting in the rain about whether or not he'd stand me up.
I kind of wish he did.
We entered the brewery and he shot his beer taster, immediately ready for another one. Again, I overlooked this behavior and chalked it up to nerves. I asked what he did for a living, and he responded that he used to work in jails but was now a mechanic. Oh, and he'd been in the army infantry, and yes, he'd killed people abroad. With a wan smile I replied I assumed so based on the infantry status and then thanked him for his service to our country. He said everyone asks about the killing factor and I couldn't help but feel badly for that.
I let Mr. Delaware drive the conversation for a few minutes but we ran out of topics, so I jumped in and asked about dating. Immediately he mentioned he'd been married and dumped by his wife when he came home to find his friend sitting on their couch. She walked into the living room and said, "I've been sleeping with him for the past year." In those moments I softened to him a bit.
Bad. Decision.
From there I asked a polite follow up question about cheating and what that had meant to him in the datingverse. He said he didn't have a problem with cheating, and in fact had slept with his BFF's first and second ex-wife, and upon further prodding said his BFF knew. I swapped topics to his time working at the jail, which seemed to be in a better direction. Mr. DE proceeded to tell me that his dad had been in the same jail he worked at, and proudly my date boasted he had treated his dad like any other prisoner. "There's a line between family and work," he said, throwing back another beer taster. "I wouldn't even look him in the eye."
The display of macho-strutting was strange to me, and I reminded myself that to him, this situation is weird. He's on camera, he's agreed to go on a blind date, and he might be worried about how he's portrayed. The tour of the brewery started, and Mr. DE decided to 1) talk throughout and 2) make ever-increasing loud comments about the other women on the tour, talking them down and telling me they were throwing nasty looks in my direction. I suggested he was being rude, and off he went for more beer.
The last straw happened during the second half of the tour, after he had tried to put his arm around me and I was wondering what could possibly be going through his head. Mr. Delaware invited me to go to his mom's house where we could hang out in the hot tub, though we'd have have to be careful since there'd be very little material between him and me, and the warmth tended to increase blood flow and circulation. He proceeded to detail what I'd look like in a bikini, and I paused him to ask why he thought this was going to happen. His response? "You only live once. Figured I'd go for it, maybe you're easy."
And then he told me if we did go to his mom's house, his stepdad had rules: Mr. DE would have to a bring a girl for him. Mr. Delaware gestured to Megan.
Just barely an hour into the date, it was time to go.
The beer was good, though.