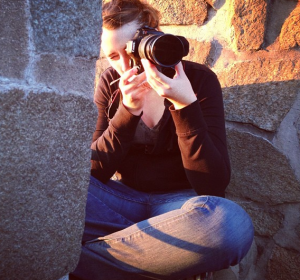 So, in trying to coordinate a double date for Megan and myself , Megs maybe/definitely stumbled upon a boy who made her not only smile, but radiate with hope for her own future as well as the future of humanity. There were definitely fawns, bunnies, and tiny unicorns crawling out of the woodwork when she talked about him. Yep, it was crush at first site.*
Fawn-inducing boy scored a solo date with Megan. If by solo, we're counting me being there. Because yes, I grabbed Meg's cameras and figured if she was going to show off what she'd learned by watching me date, I was going to show off what I'd learned by watching her film. If by show off, we're talking not show off at all. Neither of us are super showboaty.
Pre-date, for me, was awesome. I mostly lolled around in a pair of jeans and a sweatshirt while reading the latest edition of the The Atlantic on my iPhone. Megan, on the other hand, was racing about looking for the shirt she wanted to wear, trying to decide if said shirt was wrinkled once she found it in a bag atop Huckleberry Fit, checking the weather to see if a skirt or pants were a better bet, and finally applying makeup while I said helpful things like, "We better leave in five minutes," and, "Do you suppose the Roosevelts had an open marriage?"
Parking took verifiably forever. We spent ten minutes driving to Harvard Square, and thirty minutes navigating the parking situation, which involved no less than three illegal U-turns and fifteen dollars once we resigned ourselves to a parking lot. I bounded out of Huck, loaded my purse with cameras and equipment, and then pranced to meet fawn-inspiring boy and set up a camera. Did I care what I looked like or what he thought of me? Not at all! It was so. relaxing. I shook his hand, popped up a camera and signaled to Megan. Piece of cake.
They spent the first part of their date ambling near a body of water that was home to both darkness and unsavory characters. And then it was time for dinner.
Except, it was Saturday night. In Harvard Square. And there was a rowing competition going on. Like, a serious, all hands on deck, every crew squad that might be worth dust bunnies was in attendance competition. Which meant the brewpub they'd hoped to eat at was pandemonious.
I left the potential lovebirds out front, prayed no hand-holding would take place without the camera, and braved the interior of the brewery. After a line to talk to a hostess, I put Meg's name in and was told to wait for a manager. Ten minutes later, no manager had showed up and I was hovering awkwardly near the hostesses, who kept giving me and my jeans-and-hoody self the evil eye. Plus it was roaringly loud. Panic set in: Megan was alone with a stranger, I was supposed to be filming, I didn't have a place for the two to eat, and all this was getting a bit out of control.
A man who looked like he made decisions was setting up a table nearby and I pounced into action. He admitted to being the manager. I made my elevator pitch, got his signature on a release, and went outside, having to break the news that there was a forty-five minute wait for a table. Megan and the boy looked doe-eyed at each other and at me. I suggested a Chinese restaurant we'd had lunch at, which had been some of the best Chinese food we'd ever had. Once there, we found another huge line, more roaring noise, and a manager who was impossible to find, plus a slight language barrier. Repeat of what happened at the brewpub, only the manager didn't quite understand the filming aspect and once I had Megs and the boy almost to a table after waiting twenty minutes, we were told we couldn't film.
Holy. Guacamole.
Back to the brewpub, another twenty minutes and our name was called. The corner table was perfect for the date, and the men squashed at the table next to the daters didn't seem much to mind the tripod that was hovering nearby, though in setting up the 'pod I'm fairly certain I stuck my ass almost on top of their table, so maybe that was enough of an apology/thanks for them. With everything set, the waiter debriefed on what was going on, and curious onlookers appeased with postcards about the project, I went to find a spot for myself to perch and watch.
Only…I hadn't put my own name in for a table. Whoops. So it would be another hour and a half before a table opened up. The bar was standing room only, and all the standers were six feet tall with biceps as big as my head. Every seat in the waiting area was taken. I texted Megan that I wouldn't be able to see her, to text me if she needed anything and I'd be back.
And then, I ran next door to a Vietnamese place, took the last seat at the counter, begged for pho and a beer as fast as possible, wolfed down both at breakneck speed, ate a mint and raced back to the brewpub and my daters, who were most of the way through salads, laughing and talking and making merry. The cameras were even still on.** Squashing myself into a seat in the waiting area, I pulled out a book until the daters were done. Racing back to their table, I scooped up cameras, answered more questions from onlookers, shook hands and kissed babies, and filmed the two leaving.
Finally, it was time to say goodbye. Attempting to blend into the concrete wall next to me, I tried to set up a camera to point at the couple while looking as though the fissures in the wall were the most fascinating crevices I had ever seen. Once farewells were bid, Megan and I got back to Huck, I set another camera, started the car, turned to her and said, "So, what did you think?"
And then we talked about him the whole way home. Home. Where there was a bed. And pajamas. And texting Adam. And petting a puppy while watching a horror movie with cousin Elle. And no problems to solve at all.***
–
*Site because they met on OkCupid! Oh, spelling/word puns how I adore thee. Let me list the ways alphabetically…
**Crikey, I think. I think they were.
***This whole story reminds me of a twisted version of Freaky Friday.