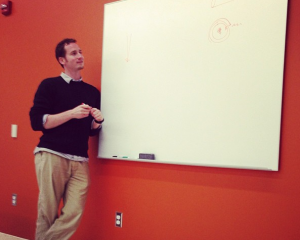 The hills of Ohio rolled into more mountainous terrain in Pennsylvania as Huckleberry Fit got Megan and myself to the town of State College. Eager to see this famous/infamous town and not eager at all to date after a couple doozies in the dates leading up to this one, I myself had mixed emotions about meeting Penn Ben (as we called my date).
After taking photos at a botanical garden, Ben and I went to the on-campus ice cream shop, The Creamery, even though it was freezing. They served the largest scoops of ice cream known to humankind (though we skipped the Peachy Paterno flavor, which the scoopers confessed was a controversial choice). We topped off our cold moment by eating our treats al fresco.
Darkness had fallen by the time we were done, and not only was my mouth frozen, but also my esophagus, larynx, stomach, shoulders, elbows and just under my fingernails (not to mention any exposed and unexposed parts of my nose). As a last stop on the date, Penn Ben took me to a science building. We randomly wound up inside it, first talking to a blatantly racist associate of custodial arts and then exploring a student gathering space with some big comfy chairs. I couldn't resist sitting in one, facing a white board and asking Penn Ben to give a lecture.
Props to Penn Ben for stepping up to the task. He began to explain how lasers work and thus how they are able to use lasers for a variety of tasks that were not thought possible before. Diagrams were made, arrows were drawn. I raised my hand and asked questions and Megan (bless her heart) fell asleep in a chair a ways away.
I suppose a lecture is a strange request for a date, but I like learning. And one of my insecurities in life it that I don't fit in with academics. In fact, the night before in Ohio, we'd stayed with two English PhDs  and I had fretted and over-analyzed myself the entire time, wondering if I was anywhere near to their level of worthy-to-be-conversing (despite evidence all pointing to yes, yes I was).
The date ended with a handshake and a hug, and it was nice to just go on a date that wasn't fraught or strange or stressful — one where I could just be myself and not have to have a host of other emotions too. It made looking forward to the next date in the next state possible.