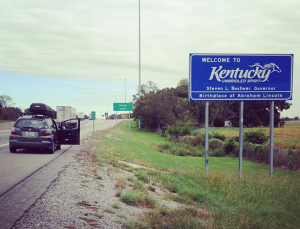 There is nothing like going out with a pretty cool guy and feeling like hey, this dude would make a great friend, and then having your date tell you that girls always seem to think he's sweet and a good friend, but not dating material. So when I was out with J and this all went down, I made the conscious decision to give him more of a chance.
And then we were in the Lost Caves — a really great tour that included tales of prohibition bars underground, laws about having alcohol sold under street level post-prohibition, and eventually a canoe that sat a dozen people and everyone playing limbo all together (yes, in the canoe) to get from one side of the cave to the other. And there was J —  telling me his story about a rough childhood, a newfound better adulthood and an ability to make good conversation.
After an hour and half together learning about science and history, there weren't explosions in the sky (the band, or the feeling in my heart). As much as I liked J as a human being, I began to worry that continuing being on a date was going to lead him on — and doubled with my still learning to adjust my body language and demeanor, I knew that though we were making fun of scarecrows with reckless abandon, it was time to bow out.
I know I'm not a victim on any of these dates. But I will say that it was tough back in the Bay Area, and it remains tough now, to let someone down kindly, honestly and completely. (They really should teach this in a class in high school. Or junior high. Or both.*) It hurts me to know I'm letting someone down, to not be what they want me or need me to be — simply because it's not true to who I am. So when I realized it was time to step away, I wasn't even sure how.
What did I do? We walked to the cars, then I shrugged off a suggestion to sit down at a picnic table with a feigned best be going and did my best to clamp my mind closed to the fact that in a few years, J is going to be irresistible to any girl who crosses his path. He's smart, literate, interesting, socially intelligent, and once he sets his career plan in motion, he's going to be impossible to ignore.
I knew for right here and right now, this was the best course of action. And I have to say, I kind of hated every second of it. I hope this sort of thing gets easier.
–
*Educators, I will gladly teach this class. For free. This is a skill I think is vital for courtship in the twenty-first century and we're all lacking it. Time to learn.