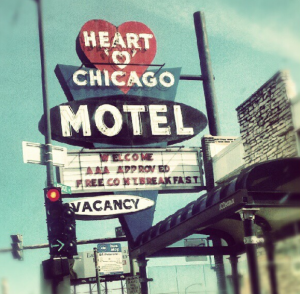 The first thing we did upon rolling into Chicago was gasp at gas prices (almost five dollars a gallon) and decide to hold off on filling our tank. The second thing we did was spot a Chipotle and make a beeline for food with flavor and vegetables. The third thing we did was pick up my date, D, from school (community college, folks! Not high school, sheesh).
It took about ninety minutes, but I did realize that D was not the guy for me. While he had a unique and drama-laden upbringing, his monochromatic style of discussion made even the most colorful story challenging to listen to. Though he was obviously intelligent and passionate about his education, he seemed to lack a good sense of a social IQ (admittedly, this is the Californian in me who was taken aback when D hand-rolled a cigarette and smoked it without asking if it was okay). And finally, D was not interested in having a conversation where two parties bounce ideas, stories and thoughts back and forth as much as he was interested in a running monologue occasionally interrupted by himself as he switched topics.
So I'm on a date that I really don't want to be on, a scenario not unfamiliar to those who hit the datingverse with a vengeance. And here's what galls me in retrospect: not once did I consider pulling a Houdini from the date. I noodle around with the idea of fibbing my way out of it. I ponder how miserable my face looks (I'm known for expressing how I'm feeling a little too well) and if I'm doing a good job of hiding it. And then I ponder if I should be attempting to mask my displeasure. And then I check out entirely and literally began thinking about how I might wear my hair the next day.
And all this has me thinking that I have to learn the art of gracefully backing out. There's nothing wrong with deciding how to spend your time and with whom you spend it. And that you goes for me as well. In true She-Ra fashion, I have the power. The power to hold my hand up and honestly say you seem nice but I have to tell you, I think I need to go now. Or maybe, golly, I must be going now. Or maybe, as my friend Sea suggests, I'm sure you're a nice person, but I have to tell you that I don't think we're right for one another.
The point — the one I keep having to hammer home to myself — is that this is a first date. I don't owe this person anything. And they don't owe me anything. I don't even owe him an explanation. I literally could have just stopped the date — and so could have he — and neither one of us would have had just cause to complain. Yet we're trapped in the social convention of this being a date. And a date signifies you should be on our best, most polite behavior; that you should be nice regardless. But when are we being nice to save face for someone else, and when are we being nice in contradiction to your own self respect?
I'll get the hang of this eventually…right?