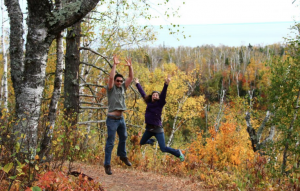 To date, no state has done fall like Minnesota. Driving a back-country two-lane highway, Megan and I were in a constant state of crimson, golden and magenta with touches of foresty green. So thick were the trees, we never saw gaps from one to the next unless they were interrupted by a sparkling aquamarine lake. Which, in the not misnomered "Land of a Thousand Lakes," was certifiably often. Right before Paul Bunyan's hometown, Megan and I leapt out of the car to snuggle up with all that autumn.
Also to date, no date has been quite like the Minnesotan I met up with, Carl. Truly midwestern-polite, Carl held doors open, kept conversation neutral and even ran inside to nab napkins when he realized I had spilled coffee over my hand. Once Megan and I determined he was probably not a psychopath, we agreed to let him into Huckleberry Fit so we could carpool to a hiking spot known for waterfalls: Gooseberry State Park.
Immediately upon entering Huckleberry, Carl's demeanor changed. He said he often felt super comfortable with people right away, and went on to incite boisterous conversation about his ex-wife and past girls he's dated in Duluth, and then he queried my dating history. From my longest relationship to how I typically date, Carl wanted to know it all. Then with nothing resembling a segue, Carl clapped his hands together and said, "Let's talk politics!" A loud conversation about the state of the union ensued.
Forty minutes later, I was a bit exhausted and we hadn't even begun hiking. (Man, I just woke up after a great eight hours of rest and I'm tired after just remembering this date.) Gooseberry was lovely, and Carl never lacked for conversation starters or topics to ramble about. To be fair, he did ask a lot of questions and was more than happy to listen and respond. It was just overwhelming for a first date.
My favorite moment of the date was when we were walking across a bridge and noticed a little girl merrily throwing rocks into a barely moving creek. Entranced at just how happy that rock throwing made her, we eventually made our way to the water's edge and began skipping stones (Carl) and plunking rocks (me) ourselves. The little girl's grandfather, who had been watching her without much emotion, even got in on the fun, and started throwing the biggest rocks he could find in order to make bigger and bigger splashes.
My second favorite moment of the date was when Carl said he'd always wanted to host or attend a bear party, not realizing that for the most part, those parties are meant for hairy men and the men and women who are interested in hooking up/having sex with them. I warned him that perhaps that would be what he was inviting himself to.
Before we left Gooseberry, Carl went to the bathroom and Megan asked how I was doing. I realized that somewhere along the hike I had spaced out in my head and started thinking about my ex, with whom I'd gone hiking a few times. And all I really wanted was to be hiking with him and talking about what we'd chat about — things we'd heard on NPR or how the light reflects off different foliage — instead of being present in the moment. But I'm smart enough to know those are just dust bunnies of thoughts stuck in my brain, so I shook them out and continued on with my date — admittedly, with less enthusiasm. Carl talked the whole way home, played us songs from his band and proceeded to ask if we wanted to get dinner. (He had told me he thought Megan might like his roommate). After a polite decline, Megan and I drove back to our hotel in complete silence.