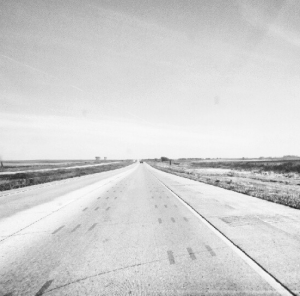 One of the gents I reached out to in North Dakota, Andrew, got back to me after my date with James. Megan and I had treated ourselves to milkshakes and a series of high-fives for our date-finding skills, and then explored prairie dog town and Windblown Canyon in Theodore Roosevelt State Park, taking photos and basking in fresh air until sunset. After such a wild day, Megan was asleep in the passenger seat the instant we hit the freeway. With three hours to our hotel, I had a lot of time on my hands. So I decided to return Andrew's voicemail.
Oil rigs flying by Huckleberry Fit, Andrew and I chatted for a quarter of an hour about North Dakota dating. Living on the opposite side of the state than James, Andrew had the same qualm about dating in ND as my actual ND date: it's hard to find women! He did mention that he's having far better luck on Plenty of Fish than OkCupid (take heed, ND boys and girls!).
North Dakota: Lots of space, lots of job opportunity…not sure if the word lots really applies to the dating scene, though.