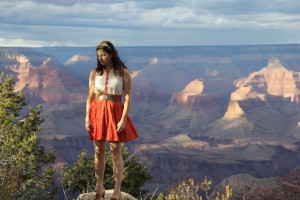 Holy cannoli. My absolute favorite retailer, ModCloth, has signed on to sponsor the documentary. Which means a few days ago I got to peruse their website and feel like I was doing my job (instead of feeling like a fashion junkie desperate for a fix of retro-cuteness).
I've been a ModCloth disciple since a friend of mine purchased me a stunning Stop Staring dress (akin to the Pine All Pine, except in black). While the frock is exceptional and I look like 10 billion bucks in it (plus I feel like a class act), what drew me to come back to MC again and again was the product descriptions. Yep, MC had me at the likes of, "It's a postcard-perfect day, and you're in the park, laying back on the parrot green grass and watching the clouds meander by…" and, "This sleeveless, sheer-topped dress is perfect for any occasion — strolling on land, sailing the sea, or flying high in the sky — especially when paired with a cozy, cream cardigan, oversized sunnies, and chocolate-brown ballet flats." Descriptive storytelling that simultaneously styles me? Genius.
Even more my luck, ModCloth assigned a ModStylist, Amy, to the task of helping me select versatile wardrobe pieces that would flatter, look good on camera, and allow me to mix and match so you can't tell I'm wearing the same clothing over and over again.
Amy was rad. She looked over the wishlist I came up with, made a few tweaks, and even created a Polyvore so I could really see what she envisioned for me. Small heels for easy walking, as I'm never sure what I'll be doing. The ability to dress up or down depending on accessories. Being able to be prepared for anything, from learning to fly a plane, to enjoying a pot of tea, to having a beer at a park while watching the sunset.
Getting dressed for the next few months just got really easy — and for that, I'm eternally grateful. Now I can focus on other things…like figuring out that damn mascara brush.