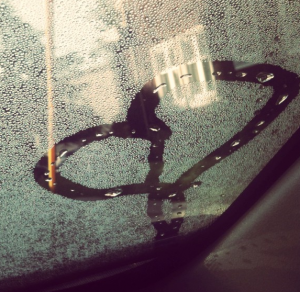 As I was running through the first mist of fall this morning, I noticed a very simple gate at the threshold of a garden. Spun in the gate's spiral was a spider's web. Those silky strands are typical of early autumn, but from afar they didn't resemble the dining room table of a hungry arachnid. Instead, I saw a cobweb — the dust-bunny equivalent of crown molding — residing in the curvature of the heart.
Cobwebs are attracted to that which is not in use, so imagery of a cobwebbed heart worried me. An image of that same heart one day pumping beneath my breast, the corner reserved for that loving feeling residing in absolute stillness. It's a fairly sad thought, one I think most people who do want a long-term relationship probably worry about, in metaphors of cobwebs or not.
So I find solace in the fact that I'm not simply fretting about this possible outcome for my future, that my joie de vivre has not been sucked away and that despite breakups I remain unbreakable in spirit (thank golly!). Whether I find someone on the road or back here at home is less important than the knowledge that I'm about to go live in a way I haven't lived before (and Megan coming along for the ride makes it that much sweeter).
And maybe it's that kind of living that keeps the cobwebs off every part of your heart. Because even if I'm not actively involved in that loving feeling with a person, I don't doubt my ability to be in love with life.